Okay any FMA fans here? This is my favorite manga series of all time. It's got a good story and it's hard to find a character to dislike (well imo.) 
At first I didn't like FMA. I caught an episode of the anime on Adult Swim once the opening theme kind of turned me off. Then in my senior year of high school I went to a con and the voice of Edward was there, Vic (I know some people hate him. XD). I went to a few of his panels because of my high school buddies wanted to. And well because of him I deiced to get into the series. I watched the first anime series first I then I went to the manga. The manga is what made me really love this series. 
So my favorite male character is Roy and my favorite female character is Riza. XD Yes I do ship them. 
I love both of the Elric brothers dearly and most of the cast as well.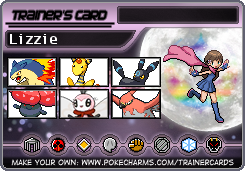 Chat De Lune's Forum Wife 
 Miakemi's RL BBF