Blog 1: Episodes 1-5

Note: I found these episodes on youtube! Oh happy day! 

Names Note (So I remember them):
Mai: Cure Egret
Saki:Cure Bloom
Flappi: Bloom's mascot
Choppi: Egret's mascot

Thoughts on opening:
I like the opening animation, but the song is okay. I'm really not a big fan of precure openings because they shout the name of the show like a billion times. I prefer openings that are made to fit the show's theme and plot. The only precure opening that I love is Suite and Smile would be my second pick. Those two songs are really catchy.

Thoughts on Ending:
Nice, I like it! The beat is catchy and it's nice to see a non dancing ending. Plus no CGI! All hand drawn! I'm sorry Toei is terrible with CGI. I guess I'm spoil by Pixar.

Transform: I like the old precure transformations. They're long, but I'm okay with it. It's just different from typical magical girl transformaiton.

The attack: It's okay? The name is odd.

Episode 1: The Intro
Pretty good start for the season. Even though it's only episode one I like it so far. I love our two leads already. I like Saki's spunk and Mai just seems like a total sweetheart. And guess what! The mascots arent annoying! Even with their catchphrase. I like their personalities and they're cute. 

As for the plot of the episode. I like that Saki and Mai briefly met each other as little kids and I like how they remet. My only problem is the mascots protecting them. They tell them to transform and then go off to fight the plant guy. But the thing is they need to transform with them. Did they forgot about that out of panic or was just a plothole? Regardless the four of them trying to protect each other was really sweet. It makes you feel good about yourself you know? Yeah I just met you, but I don't want to see anything bad happen to you. 

Oh, what about the old lady!? Did she ever get her bake goods!?

Episode two: The let's be friends/learn our powers
A very sweet episode. We got to learn about the world they need to save and I got to say I like this plot! They're basically protecting the tree of life. I love nature which is the reason I like this plot. So Mai doubts about becoming friends with Saki which makes sense. She just move to Saki's town and she's unsure if Saki is only be nice to her because she's new or she actually wants to be friends with her. I always liked this development in magical girl shows. Usually the girls become instant bffs. The fight scene was funny and it's nice to see them still learning how to fight. And the power of friendship wins the day! Like it should!

Oh, I love how in magical girls that people arent around in battles. You know they were right next Saki's house. Her family and friends were there and not one peep from them! XD

Episode 3: Softball? Baseball?
Meh? The episode was basically a slice of life episode. The if you put too much pressure of yourself you wont preform as well episode. I really have nothing else to say. By the way I love Saki's dad. He's a dedicated dad! Closed the shop so we could be at his daughter's game. 

So is Saki on a softball team or a baseball team? Does Japan have softball teams?

Episode 4: Transformation Problem
Frogspwan? Wow Mai's brother is odd. Yes, the first thing that pops into my mind about spring is frogs getting it on. Despite that overall a good episode. Mai still doubting herself probably because shes new to the school and thanks to Saki she joined the art club. The evil plant guy found out their weakness which is they cant transform without each other. Which is my problem with the first two precure series. I mean the concept is good, but it leaves them sitting ducks when they're alone. Actually their biggest weakness is if you take away the mascots their toast. But since this is a kids show I dont think the bad guys will ever figure that out. Speaking of the mascots I love these two. Their so funny! Chopi is clueless! I love it!

Episode 5: Ah young love!
Kenta is a cutie! <3 Charming episode! Not much to say it about it though. Just another slice of life episode. We got to learn more about Mai's family. 

So that's it for now! After watching 5 episodes, I'm enjoying it so far. I don't think I'm going to drop it. 5 episodes can say a lot about a show. So far the filler episodes arent painful to watch.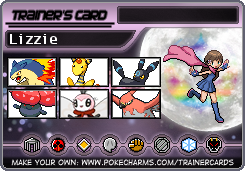 Chat De Lune's Forum Wife 
 Miakemi's RL BBF