Mew Ami
Cafe Owner





Posts

: 2464


Coffee Beans

: 1580


Join date

: 2012-06-30


Age

: 24


Location

: La La Land


Subject: Tsubasa Reservior Chronicles: Debate Thu Oct 31, 2013 11:09 pm

---

So since the main characters feature CCS characters I though I put this here in this forum. So Tsubasa Reservior Chronicles like? Dislike? Do you consider it canon? Non canon?

At first I kind of like this series. I read a good amount of the manga and then my interest dropped. Then one day I read some spoilers and found that Syaroan was a clone and the clone didnt care for Sakura anymore. Then that Sakura was a clone too! The real Syaroan is actually the son of Syaroan and Sakura from CCS and his real name is Tsubasa? It got really confusing and I probably got that wrong. Then I found out Fai became a vampire. I was like really? Things didnt need to get complicated and we didnt need clones! So now I dislike this series and I refuse to accept it as canon if it is.
Beat
Chef





Posts

: 166


Coffee Beans

: 617


Join date

: 2013-06-29


Age

: 26


Location

: The 9th hierarchical city of Eis


Subject: Re: Tsubasa Reservior Chronicles: Debate Fri Nov 01, 2013 1:22 pm

---

Dislike. Noncannon with lots of salt please.

I read both manga and saw the anime, the positive parts, a grown up Sakura and Syaoran and a perspective of the(supposed) romance, though that is entirely debatable.

I saw that, Syaoran apparently, pierced sakura hime. She said something along the lines of "You love the real one, go back to your Sakura." and disappeared in Sakura petals. And I was like, alright, didn't see that coming. Then, the Syaoran was clone too and the real one lost his eye in...I don't remember. Then I said, "Enought internet for today." Besides, well to many twists, Sakura had "the power to change the world" which was...nothing. The CCS, was very powerful. Sakura-hime...well, was not. So I agree with you, poor Li, needs a break from too many twists and some relaxing Green tea.

From time to time, reality puts you through all kinds of ordeals...all day all night...but... No matter how many times you're about to be knocked down, blaze up and stand again! Give me your feelings to protect to the end, our small dream... Your running figure looks from behind just like that of a.. HERO. Surmounting our tears, our chests throbbing, overflowing with emotions, echoing faraway, into the sky I adore, our wishes granted... I give you this song of hope!       
Lilith Quinzet
Civilian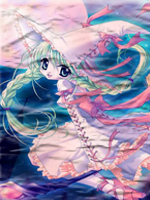 Posts

: 34


Coffee Beans

: 534


Join date

: 2013-10-21


Age

: 28


Location

: Realm of Clouds


Subject: Re: Tsubasa Reservior Chronicles: Debate Fri Nov 01, 2013 4:05 pm

---

Lilith thinks Clamp are not the sanest persons around.

Makahari Mahora Lila Lili Makara!

(Arigatō, Utena-sama!)
Miakemi
Hostess





Posts

: 315


Coffee Beans

: 638


Join date

: 2012-06-30


Age

: 24


Location

: Everywhere and Nowhere at Once


Subject: Re: Tsubasa Reservior Chronicles: Debate Sat Nov 02, 2013 10:58 am

---

I read pretty far.  Until the clone and the stuff with Fai becoming the vampire...  I hate clones.  I haven't read/seen many things that use clones effectively.  I'm sure there are plenty of shows using clones well, but I haven't seen them.

It makes me sad because I looked through the art book a while ago, and the art in there was beautiful.  Plus, I liked the characters.  It would have been a fun story if they had kept it simple.
Mew Ami
Cafe Owner





Posts

: 2464


Coffee Beans

: 1580


Join date

: 2012-06-30


Age

: 24


Location

: La La Land


Subject: Re: Tsubasa Reservior Chronicles: Debate Sat Nov 02, 2013 9:24 pm

---

Clones creep me out and always will no matter how well they are written. The idea of looking for someone's memories is neat though. Really dont know. I feel like Tsubasa is a fanfic.
Timer Rabbit
Civilian





Posts

: 53


Coffee Beans

: 107


Join date

: 2013-12-06


Age

: 26


Location

: CA, USA


Subject: Re: Tsubasa Reservior Chronicles: Debate Fri Dec 20, 2013 11:11 pm

---

If anyone has read the old omnibus 1-3 volume of xxxHolic, Yuko made it pretty clear that there are many alternative universes. And since this IS CLAMP's creations, they get to add what's fact for their stories and what's fanon.

Okay. My sis told me that they are clones, adn that this version of Sakura and Syaroan... Okay what.

I never much on Tsubasa or even care for it. I only like that this is a glorified Final Fantasy CLAMP crossover (that is not their Wonderland one-shot). Funny I was talking with a friend over the car about how CLAMP does noodle-men (LOL).

But wait... The REAL Sakura and Syaroan are married?! Why there is not a part for an CCS special as adults? (I do remember the end chapters somewhere where they are high school, but my memory is rusty from touching the CCS magna volume my sis USED TO OWN.

But I think CLAMP... Yea... Either tries to hard to make it cool or whatssoever. I knwo they have done strange or complicated stories before... But glad that this series did not land in 2011.. I feel old and should forget about Tsubasa lol.
Mew Ami
Cafe Owner





Posts

: 2464


Coffee Beans

: 1580


Join date

: 2012-06-30


Age

: 24


Location

: La La Land


Subject: Re: Tsubasa Reservior Chronicles: Debate Fri Dec 20, 2013 11:30 pm

---

I wish there was CCS special of them married! It would be so cute! <3