You can legally watch CCS on Crunchyroll, but to see the episode right when it comes out you need to be a Premium member. So I'm going to try to link episodes from youtube for folks like me who don't who a premium membership. Also Crunchyroll hates my internet so I have no choice to watch it on youtube. XD
Episode one:
A solid episode. I was happy to see that the new anime is connected to the old anime! As for the pink bear. For those who never read the manga. Sakura and Syaoran exchange bears in the manga. They did make an OVA before the new anime to explain this. Honestly I find it pointless since they showed the clip of the airport scene from the old anime in this episode. 
I'm happy that the returning cast voice actors still sound the same! Or at least they did to me. I like the blend of new background music with old background music! Takes me back. 
Sakura with no roller skates. How sad. =(
As for the plot. It seems like we're in for a ride here! I'm very curious about the clear cards and what happened to the Sakura card. I have a theory that the Sakura cards are turning into these Clear Cards. So they are completely Sakura's cards. The card fight. I wish there more action to it. Seeing how it was the near the end of episode one I can excuse this. 
Episode 2:
Another solid episode! Again the card fight was a bit boring. I hope as the episodes go on the card stuff happens earlier in the episode. The best part of the old anime were the captures. Each capture was creative.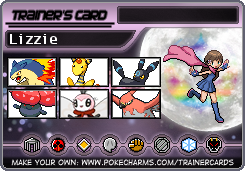 Chat De Lune's Forum Wife 
 Miakemi's RL BBF