General Information:

Name: Risa (Meaning: Latin for Laughter)
Gender: Female

Birthday: April 19th
Age: 14
Birthplace: A small farm village near Ponyville


Physical Description:
Risa is about 5'0" tall and has small like body structure. However her cheeks her slightly chubby. Risa's cheeks also has freckles. She has bright blue eyes and her skin is slightly tan. Risa loves to wear bright pastel color clothing. Her favorite type of shirt to wear is T-shirts. Risa's favorite T-shirt is a bright pink shirt that has three bright blue balloons on it.  As for pants she loves to wear capris because of her height.  For shoes Risa loves to wear converse shoes. She also like to wear flip flops. 


Personality:
Risa is very outgoing and very energetic. She can also very hyper. She always laughs and has a smile on her face. Risa loves to make friends and help people who are in need. She also loves to eat sweets and to throw parties especially for her friends. Risa enjoys playing pranks on her friends, but will never play a prank on someone if it hurts them.

Risa can be very odd girl. She'll throw parties out of whim and will randomly break out in song. She also claims that she has special senses that can predict certain things. For example when she feels a twitch on her head, she claims something will fall from the sky. For some strange reason her predictions turn out to be turn and her friends learn quick to believe her. 

Despite being happy girl Risa does have some insecurities. She has a fear of losing friends which causes her to be a bit paranoid.  She'll also become a bitter person and will have hard time believing her friends.  

Any Unique Abilities/Skills: The element of Laughter. She also has beautiful singing voice and can play many different types of musical instruments. 


History:
Risa grew up on a small farm near Ponyville. She comes from a family with two sisters and she's the youngest. Risa's family is quite serious and her parents were very strict. Risa would get trouble as kid when she played pranks on her sisters. As she grew older Risa discover parties when her family would come to Ponyville to sell their crops. She then would sneak over to Ponyvillie on the weekends to attend the parties. She loved how everyone was happy and energetic.  This inspire Risa to throw her own parties back in her small town. So she taught herself how to bake sweets and create her own party decorations.  She would throw her parties on the weekends in the town's great hall. Risa's parties consist of eating sweets and dancing. 

Sadly one night her sister saw Risa sneaking out and followed her to the great hall. She saw Risa's party and told her parents at once. They came to the party and scolded Risa right in front of all her friends. Her parents forbid her from throwing parties and would make sure she would never sneak out of the house again. After that night, Risa was watched over 24/7 which made her lose all friends thus creating her insecurity. One day Risa had enough and told her parents that she couldn't live with them anymore. She storm out of the house and caught a bus to Ponyville. After the bus dropped her off Risa went to the village's bake shop. She pig out on sweeties and explained her situation to the owners, Mr. and Mrs. Cake. The couple felt sorry for Risa and told her that she could stay in the apartment that was upstairs. However, they told her she must work in the shop and Risa quickly agreed.


Senshi information:
Senshi name: Sailor Pinkie Pie
Senshi fuku: The fuku has a light pink skirt with balloons and lollipops at the bottom. The body of the fuku is white and collar is light pink. On the chest of the fuku's body is a blue ribbon with a pink balloon in the center Also there's a blue ribbon on the back of the skirt. The sleeves are yellow and blue streamers.  The gloves are pink with pink tips at the end. The body of the boots are blue, but the heel and the top part of the boots are pink. There's also a yellow ribbon tie on the top both of the boots. The collar on the neck is pink with a blue balloon in the center. As for the tiara a pink balloon jewel is in the center. On the hair is a yellow bow with balloons sticking out in the back of it.   

Henshin/Transformation: Pinkie Pie Cutie Power Make Up! She draws a circle around her and many balloons come out of the circle and engulf her body and quickly disappear. 

Powers:

Pinkie Sense: She closes her eyes and concentrates on the enemy. Her body begins to twitch and suddenly objects begin the fall from the sky hitting the enemy. (Does not say attack aloud)

Pinkie Pie Candy Implosion: Candy appears out of now where and the enemies are filled with desire to eat the candy. Once they eat the candy their stomach will implode. 

Pinkie Pie Sound Barrier: She creates a barrier with her voice. 

Double Pinkie Pie: She can create a copy of herself. The copy can act on its own until Pinkie Pie makes it go away.


Guardian: N/A


RP Sample:

Risa burst to into the kitchen of the Sugar Cube Corner. She walked over to a table with a radio sitting on top. She turned it on and favorite band, MLP was playing. Risa then went over to the fridge and got the ingredients to make cupcakes. Today she was putting a party together for Twila. She just moved into town and she always greeted new people with a party. The girl seem socially awkward so Risa hope the party will break the ice. She gather the dry ingredients and place them on the counter with the wet ingredients. She then got out a bowl and began to make the cupcake batter. Once she made the batter, Risa got a cupcake pan and pour some batter into each hole. She then placed the pan into the oven. Risa set a timer and then left the kitchen to set up the party directions.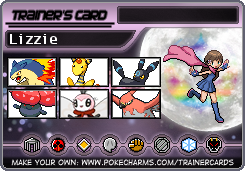 Chat De Lune's Forum Wife 
 Miakemi's RL BBF